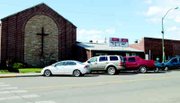 YAKIMA - The good news is that the Sunnyside Grizzly baseball team didn't commit any errors in a doubleheader at West Valley yesterday, noted Coach Terry Shines.
The bad news is that Ram pitchers handcuffed Sunnyside hitters, twirling a no-hit game in the opener of Tuesday's twin bill, followed by a four-hitter in game two on the way to a 10-0 and 12-0 sweep of the Grizzlies.
West Valley took care of business early in game one, pushing out to a 7-0 lead after just two innings.
"Their pitcher threw a lot of strikes," said Shines. Sunnyside batters hurt their own cause by staring down a third strike on seven different at bats in the two games combined.
Sunnyside's best hope for a score in game one came in the fourth inning, when Trevor Jones got to second base without benefit of a hit.
On the bright side, Sunnyside's game one pitcher, Tristan Abbott, settled down after the second inning and held the Rams to three runs the rest of the way.
"He started hitting his spots better," Shines said. "We got them (West Valley batters) to pop up and hit a lot of ground balls."
Game two was much like the first, as the Rams again struck for seven runs over the first two innings.
Sunnyside did have better luck at the plate, though, collecting four hits in the nightcap. Jones led off the first inning with a double, providing Sunnyside's best chance for a score, but was picked off.
"We were swinging the bat a little better," Shines said of game two.
The bright spot for the day, Shines said, was defense. He said the whole team did well in the field in committing no errors, singling out Andre Sarmiento, Jasper Rubalcava and Jones for praise.
Sunnyside (0-6) plays at Richland this coming Friday.
Between now and then, Shines said Sunnyside batters will work on cutting down the number of called third strikes.
"We're looking at a lot of pitches," he said. "We've talked about being able to identify a pitch, seeing how soon you can pick it up out of the (pitcher's) hand."