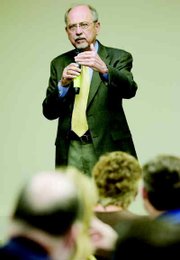 GRANDVIEW - U.S. Congressman Doc Hastings was in Grandview yesterday, Wednesday, where he addressed the Grandview Rotary Club concerning the nation's new administration, trade issues and the need to be energy independent.
Although Hastings believes every new presidential administration needs a bit of time to really get going, he said he is concerned about President Obama's proposed budget.
The congressman said Obama plans on spending $3.5 trillion in 2009.
"A lot of people don't know what a trillion dollars is," Hastings said. "That's a one with 12 zeros behind it."
According to Hastings the proposed budget for 2009 in 10 percent higher than the budget former President Bush proposed in 2008.
"Inflation didn't rise by 10 percent last year so that's an increase in spending," he added.
Because all this money that's going to be spent will be borrowed money, he said, the projected budget deficit for the end of the year will be somewhere between $1.5 and $1.7 trillion. In contrast, Hastings told the Rotarians that the highest deficit Bush had was $413 billion in 2004.
In two years Hastings said the national debt will be 55 percent of the country's gross domestic product.
"Personally I think that's an unhealthy trend," he said. "I think there should be some discussion about it.
"This is the direction we are going, whether we get there or not remains to be seen."
As far as energy goes, he feels that cap and trade policies to deal with climate change is the wrong way to go. Noting that cap and trade has been tried in Europe, Hastings said the result on the other side of the pond has been higher utility rates.
A cap and trade system is a method for managing pollution, with the end goal of reducing the overall pollution in a nation. The government sets a cap deciding how much pollution in total will be allowed. Next, companies are issued credits, which essentially allows them to pollute, based on how large and what type of industry they are. If the company comes in below its cap then it has extra credits, which it may trade with other companies that might go over their allowed credit.
Furthermore, Hasting revealed, the Pacific Northwest already has a low carbon footprint because of the area's dams, wind farms and the Hanford Nuclear Reservation.
Although he's not sure the cap and trade legislation will pass, Hastings feels it is best to look at climate change with the best facts available, not some consensus among scientists.
America, he said, needs to become energy independent and accused the new administration of closing off public lands for energy exploration.
"This will make it more difficult to become energy dependent," he said.
Hastings also touched on trade, especially the 20 percent increase in tariffs Americans must pay to ship their goods to Mexico.
The higher tariffs by the Mexican government, said Hastings, is retaliation as a result of the United States doing away with a pilot program that allowed a certain amount of Mexican trucks to enter the United States to bring in Mexican goods. The concern was that these trucks were unsafe and didn't meet United States' standards.
Hastings said the program that allowed truck traffic into the U.S. was negated in a recent bill that was passed, a bill he said that no one read. He added that the congressman who added this amendment to the bill is unknown at this time.
"Some farmers are actually thinking about shipping their goods to Canada and then to Mexico to avoid paying the tariffs," he said.
Hastings closed by saying the U.S. government has got to get its house in order. He also added that he believes the threat of new taxation by the new administration will get people in their 30s thinking when the 2010 elections come around.
"Elections are wonderful checks and balances," he said.