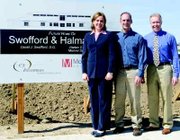 The staff at Swofford & Halma Clinic in Sunnyside welcomed its newest member this past Monday, Dr. Sofia Zelaya.
Originally from Spain, Zelaya is now the only female Spanish speaking doctor in Sunnyside that can perform cesarean sections. This, she said, is one of the reasons that drew her to the area.
Zelaya said she went to medical school at the International University of the Americas in Costa Rica and then completed her residency this past February at the University of Texas Medical School in Houston.
Zelaya credits her father, whom is also a doctor, for the reason she chose to practice medicine.
"I used to follow him around and I saw him resolve people's problems and help them," she said. "That's my motivation, to help people."
Zelaya said she started out studying to become an OBGYN and spent two years on that track before she switched to family medicine. She said she has been blessed to be able to perform nearly 700 child births, with almost 200 of them being cesarean sections, so when she finished her studies she already had a child birth background.
In bigger cities, she said, it is usually OBGYNs that perform the procedure, so knowing she would be able to continue that here in Sunnyside was a big reason she chose to practice here. The large Hispanic population in the Lower Valley was also a draw, as she said she is looking forward to helping that particular community.
Another reason for deciding to practice here was the Swofford & Halma Clinic.
"I feel it's a well organized clinic that shares my principles and values," she said. "It's going to be a nice environment to work in. When I met the staff I could see myself working here."
Zelaya said she is excited to begin working in Sunnyside and even though she knows any new job always presents challenges, she is looking forward to learning about the Sunnyside community and becoming a part of it.
The local area is a world apart from the hustle and bustle of Houston. She appreciates the wide open views and most of all, the light traffic.
Zelaya will see her first patient today, Thursday.
"I'm very happy to be here," she said. "I'm looking forward to the opportunity to serve my patients.