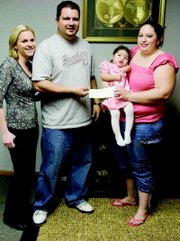 When Jose Salas and his wife Crystal read about Nicole Huffman and her daughter Alia Damian in the Daily Sun News they both felt compelled to help.
Little Alia, who is just shy of her third birthday, suffers from Polymicrogyria, a developmental malformation of the brain characterized by an excessive number of small convolutions on the surface of the brain.
Little is known about the disease and Huffman has been trying to raise money to attend a conference this June in California that will focus on the condition Polymicrogyria and will feature one of the few experts on this disease.
The Lion's Club in Granger held a spaghetti fundraiser for Huffman and her daughter last Saturday but the Salas' weren't able to attend.
"We read the article in the paper and we just decided we wanted to help," Jose Salas said.
He said his wife read it first and then he did.
"I asked her what she thought about helping her (Huffman) out and she said she was going to ask me the same thing," he explained.
So last Monday the couple, who own Pride Recovery Services in Sunnyside, called Huffman up and asked her to come down to the office. There they presented her with a check for $250 to cover the entry fee to the conference for both Huffman and her daughter.
Huffman could only say thank you.
"It was so cool," she told the Daily Sun News. "You never know how many good people are out there in the community. People really do care."
The condition the nearly 3-year-old Alia has affects the muscle tone in her neck and back. Because of this, she is unable to sit up by herself, crawl or even eat. She has had to have a feeding tube inserted into her stomach so she can eat.
Huffman said she needed between $1,500 and $2,000 to attend the conference and the spaghetti feed provided about $750. With other donations and the check the Salas' wrote, Huffman said she now has approximately $1,250.
"I'm pretty excited," she said.
She said the spaghetti feed didn't draw a lot of people but those who did attend dug deep into their wallets to donate.
"The bikers from ABATE helped out a lot," she said.
Salas and his wife thought that if the money raised from the spaghetti feed could help Huffman and her daughter out with travel expenses they could take care of the entry fee to the conference. Huffman said her hotel costs alone will total over $1,000 for the five-day conference.
Anyone wanting to help out Huffman and her daughter can call her at 643-5301. There is also a bank account set up at U.S. Bank, care of Alianette Eliana Damian where people can donate as well.