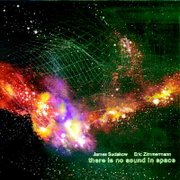 Background music, the stuff you hear in movie soundtracks.
That's my take on the CD 'there is no sound in space' by James Sudakow and Eric Zimmermann.
The artists' publicist describes the music as a combination of industrial electronica rock and fusion with virtuoso electric violin and guitar.
Ever heard an electric violin? It's very interesting-sometimes it sounds a bit like bagpipes, only you can tell it's a violin.
This music, which is entirely instrumental, wouldn't find a place in my CD collection, but sounds like it thoroughly belongs as the backdrop for dramatic television shows or movies.
Track three, the album title's namesake, has a beat to it, a steady climb that makes you feel like you ought to be watching a Star Trek movie.
Track four takes off in 1980's techno-pop fashion. If you were a big fan of that music in the '80's, this CD will give you an updated version of the sound.
It's not really music you can dance too, but it's fun to sit and tap your foot to it as you write a letter or read a book.
Track eight, "the greatest life I've even known," sounds like a pensive, reflective piece of music and I should be listening to while lying in a grass field.
Sudakow, a third generation violinist, has been studying classical music since he was four. He's known for having a creative and classic approach to the electric violin, tweaking and tuning to change the violin's sound, capabilities and applications.
Little info is given about Zimmerman, though the publicist does mention he's a guitarist for Under Radio.
The bottom line is if you like instrumental music and a healthy dose of '80's influenced sound, then buy the CD.
More like this story