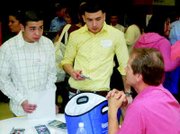 Hundreds of Sunnyside High School students yesterday dressed up in neckties and high heels for a job fair in the school's commons area.
The fair was hosted by Sunnyside Transformation Yakima Valley.
"It looks like we'll have around 30 summer jobs available," said Herman te Velde, a member of the non-profit group.
He said many of those employeeing the teens, for a period of four hours a day for five weeks during the summer, are receiving funds so they can pay the teens.
As an example, te Velde said the Sunnyside Christian Thrift Shop will put one teen to work to help clean up the former Goodwill storefront, the second-hand store's future home.
To afford hiring the person, the store will receive what te Velde calls a scholarship to pay the teen, funded by other residents and business people in the community.
Today we hope to see that we can mentor some of these kids in a positive way, let them know the community is concerned about them.
Not only has the business community stepped up with job offers and pay for the teens ages 14-18, but the youths have responded.
Prior to the job fair, there were nearly 300 students who had registered to participate in the event.
"There's no way we can provide jobs for all of them, but if nothing else this is a great learning experience for these kids," said te Velde.
SHS junior Ana Ortega agrees.
"It's motivating us that there are people who will hire teenagers," said Ortega. "I think it's great. It's giving us some experience."
Some of the employers participating in the job fair had summer jobs to offer, others like Sunnyside Community Hospital, were there looking to recruit students to potential careers in the medical field or to inform them of job shadow opportunities.
Others at the fair have jobs this summer and they want to put SHS teens to work now.
The Best Western Grapevine Inn in Sunnyside is one of those employers.
"We are very excited about the opportunity to offer jobs to some really fine kids," said Alvin Froehlich of the Grapevine Inn as he looked around the crowded commons area. "This is a wonderful opportunity to show youth that the community is really interested in helping them transform their lives."