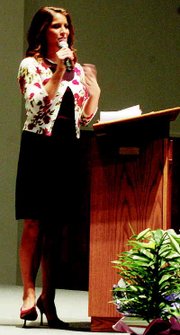 Miss Washington Janet Harding of Yelm described her journey from small town girl to pageantry's top prize during the Young Life fundraising banquet last night, Thursday, in Sunnyside.
While asking the audience to consider supporting Young Life, Harding also described how God gave her a whole new perspective on life.
She said that when she was 18 years old she first tried out for the Miss Washington title after wining her local pageant.
Three days into the state competition, though, she contracted bacterial meningitis. It's a disease that is often fatal to youths who contract it when they are 18 or younger. For Harding, the illness kept her in the hospital for 14 days before she finally returned home.
"It gave me a completely new appreciation for my life," she says. "I wake up every single day and say thank you God."
Harding went to college - she's now a junior - and after taking a break from pageant competition for a couple of years, again won her local pageant to again qualify for the Miss Washington Pageant last summer.
"It was not about winning," she said of her second try for the crown. "But just finishing the competition."
Since winning the title, Harding competed at the Miss America Pageant and spent a month on the Queen Mary cruise ship filming a reality series that will air on TLC.
Harding said her adventure is not the only one. Others have a story to tell, to share, of how God has blessed them.
"Every person in this room is on their own epic adventure," she said. Harding plans to make the most of her second chance at a life's adventure.
"I've got the gift of another day and I'm going to earn it," she said.