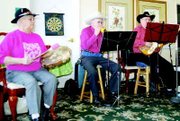 The Foggy Bottom Band consists of six mature men and women seeking to share their love of music with others, according to former Sunnyside realtor Dick Bain.
He and the other members of the band have had many experiences in the world of music. He has lived in a number of communities and had his own band, The Twilighters, when he lived on the west side of Washington.
Approximately four years ago, Bain was asked to perform a solo act for the residents at Prosser's Sheffield Manor. The other members of the Foggy Bottom Band began joining him in his venture to serve the community.
Bill Yahne, guitarist and vocalist, once was a member of the Cousins, another Lower Yakima Valley band. Bain said Yahne joined up with him and because, "I have the foggiest and he has the bottom, we became the Foggy Bottom Band."
Other members of the group include Nina Randle on the Indian drum, vocalist and harmonica player Bill Patterson, vocalist and harpsichord player Eileen Bradley and Francis Barber on the piano. The youngest of the group at age 60 is Bradley. Barber is the senior member of the band at the age of 90.
Together the group has been performing throughout the Yakima Valley for approximately two-and-a-half years.
Bain said the band plays regularly at Sheffield Manor, but it also performs at other assisted living homes in the community.
The Foggy Bottom Band has been featured at special events and class reunions. They have also performed for Grandview's community concert series.
Bain said the group's popularity throughout the years has grown and he said it all began when he decided it was time to "start giving back and performing for others in the Lower Valley."
The group will be performing April 15 and 29, at Prosser's Sun Terrace from 1:30 to 3 p.m. They are also scheduled to play Friday, April 17, at Prosser's Sheffield Manor from 1:30 to 3 p.m. and again at the Prosser Memorial Hospital Nursing Home from 11:30 a.m. to 2 p.m. Thursday, April 23.