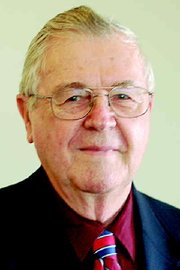 MABTON - After previously serving two terms in the office, Walt Braten of Mabton was recently re-appointed by 15th District Lower Valley Democrats as their state committee man.
The post is for a two-year term.
Braten, a seniors pastor for Sunnyside Church of God, said the state committee meets four times a year.
"The state committee determines (state Democrat) policy," Braten said. "There's a time when (Democratic party) candidates during the election year can present themselves to the committee."
Speaking of candidates, Braten said 15th District Democrats are still looking for candidates to run in the fall election for the legislative seat vacated by former Rep. Dan Newhouse when he was named the state's ag director.
"We're trying to find viable candidates. We're looking for someone not just to fill a spot on the ballot, but to do the job and get elected," Braten said. "We don't feel the Republicans should have a free shot. They're more slanted to the haves."
Braten, 79, has twice unsuccessfully vied for the state legislature. He's not a candidate this year. He says a younger person is needed for the campaign.
"We don't have any clues who it will be," he said. "We ask each other, 'Who do you know?'"
Braten belongs to the committee's eastern Washington caucus. "We have a commitment to agriculture, it's so important," he said. "We went on record against legislation to curtail water use. We're against a bill that wouldn't allow farmers to use domestic wells for the business."
He added, "We're concerned with helping farmers prosper in the state. We want them to be able to work hand in hand with the Department of Ecology, not head to head."
With his ministerial background, Braten said he doesn't always agree with his fellow Democrats. "I'm out of step with some of them," he said.
They all agree on the core issues, though.
"All of us are concerned with doing what we can to rebuild the economy and to help with education, senior citizens, medical care," he said. "There are issues that concern all of us; making sure migrants and Native Americans get a fair shake."
Headquartered in Toppenish, the 15th legislative district Democrats meet at 6:30 p.m. on the third Thursday of every month in Granger at the New Granger Community Center. The next meeting will be this Thursday, April 16.
Information is also available at www.yakimademocrats.com