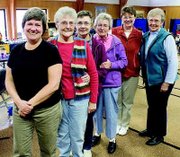 The local Red Cross organization received its own infusion of new blood recently as Sunnyside's Pat Kezele and Janet Schuler agreed to take on the roles of local blood drive coordinators.
Former blood drive coordinator Marie Handy retired at 83 years of age and told the Daily Sun News, "It's time to get someone in there with a little get up and go."
Kezele and her husband have been donating blood in Sunnyside for the past five years and said she has always noticed how smooth of an operation the Sunnyside blood drives were.
"When Marie said she was stepping down I expressed an interest in stepping up," Kezele explained.
She then asked Schuler to be the co-coordinator of the blood drives in case she was ever out of town.
"It's always more fun to do an activity with two, isn't it," she asked?
Their job will be to coordinate the volunteers and already Kezele and Schuler have high hopes to expand the number of volunteers.
Kezele explained that the Red Cross only expects 70 pints of blood from each Sunnyside blood drive.
"With the population we have that's abysmal," Kezele said. "I want to increase that number."
She said she and Schuler plan on doing this by reaching out to the Hispanic community. She hopes to accomplish this task by word of mouth, radio announcements on Spanish language radio stations and coordinating efforts with Nuestra Casa, a group headed up by Sister Mary Rita Rohde.
The Red Cross has Spanish speaking phlebotomists (the person that draws the blood) for anyone who might need translation help.
Kezele said the six blood drives held each year in Sunnyside are very important.
"Science has not been able to create blood yet so the only way to get it is through donors," Kezele said.
She explained that accident victims alone can require between four and 40 units of red blood cells.
Once the blood is donated it is broken down into red blood cells, white blood cells, platelets and plasma. A cancer patient receiving treatment takes up to six units of blood and one unit of platelets daily for two to four weeks, Kezele said.
The blood that is donated here in the Lower Valley stays in the Lower Valley, she added. Although once the blood is near its expiration date, it will be shipped anywhere in the United States where there is an urgent need.
The next blood drive to be held in Sunnyside will be Tuesday, May 5, from 1 to 6 p.m., at the United Methodist Church. Donors wanting to make an appointment can call 1-800-448-3543. Walk-ins are always welcome, Kezele added.
The Sunnyside Lion's Club will provided juice, water, coffee and a homemade goodie for this drive.