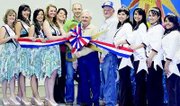 GRANDVIEW - Dave's Recycling in Grandview closed last October due to a slump in the market, but former employee and partner Abel Valenzuela has re-opened the center under a new name.
He is operating the business under the name of A&I Recycling and hopes to fill the recycling needs of the Lower Yakima Valley.
"The markets are slowly going up," Valenzuela shared, stating he has hopes of offering those who are environmentally conscious, or realize the benefits of recycling, better prices for materials brought into the business.
Right now, he said he is unable to reimburse customers for paper products and plastic materials. But, copper has seen a 40 cent per pound increase since he re-opened the business nearly three weeks ago.
Valenzuela worked with Dave Nigle, the former owner, for approximately five years. He said that experience provides him with an advantage in that he is familiar with the needs of the community and the manner of operating the business.
He said continued communication with Nigle during the closure led him to ask permission to take it over. Nigle was in agreement and Valenzuela is now able to accept paper, cardboard, radiators, aluminum, brass and various other metals for recycling. Some items he cannot pay for yet, but he can recycle them.
Each day Valenzuela says is more promising than the last as customers return and prices for the materials being recycled continue to rise.
"I tell them I will pay them when the prices go up, if the customers bring in something I cannot pay them for," he noted.
Valenzuela is not seeing the number of customers he and Nigle were seeing before, which was about 70 customers per day, but in the three weeks he has been at the helm he's now averaging about 25 stop-ins each day.
"When Dave and I first started it was about the same," he explained.
With the re-opening, Valenzuela has been able to employ one part-time person, Bambi Rios, to assist customers.
He said there are still items he is not accepting. Those items include plastic, steel, glass and agricultural waste products.
"I hope to help the community," said Valenzuela.
A&I Recycling is open Tuesday through Friday from 9 a.m. to 5 p.m. and Saturday from 9 a.m. to 1 p.m. Its new phone number is 882-1029.