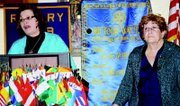 April is Sexual Assault Awareness Month and Lower Valley Crisis and Support Services is spreading the word.
Advocate Jan Wahl and Executive Director Julia Hart spoke to Sunnyside's Noon Rotary Club members Monday, addressing the need for citizen awareness to how widespread sexual assault is.
Wahl said her agency handles a number of sexual assault cases and there are two advocates, including herself, at Lower Valley Crisis and Support Services to handle those cases. Most of the cases she and her co-worker, Estella Patterson, handle are those of children. "Many are of children ages six to 10-years-old," she went on.
As an advocate, she said her role is to provide support for sexual assault victims at the hospital, when dealing with law enforcement officials, at the schools, when the victim visits the prosecutor's office and when the victim testifies in court.
"Children are re-traumatized through the court system," Wahl said, stating even children must testify in court and often times that is long after the crime occurred. She explained the backlog in Yakima County Superior Court is approximately two years. By then, Wahl said, the victim no longer wants to talk about what happened. Because of that, she said many cases are plea bargained.
In the 25 years Wahl has been serving as a sexual assault victims advocate the statistics have not changed. She said approximately one out of three girls and one out of five boys becomes a sexual assault victim.
Wanting to see those numbers decline, she told the Rotarians she is working to educate others, helping them recognize symptoms and signs of sexual assault.
Hart said the prosecutor's office is making strides toward improving the court system and reducing its backlog. But, help from the community is greatly needed. She said the community can help suspected victims seek out the resources available to them. Community members can also take a stand against sexual assault, speaking out and speaking up.
Those wanting to support Lower Valley Crisis and Support Services in their endeavor can donate basic items like clothing, toothbrushes, soap or diapers. The community can also participate in a rally to take place this coming Thursday at 3 p.m. The event will be held on Yakima Valley Highway across from Taco Bell.
"We want people to step up and report abuse situations," said Hart.