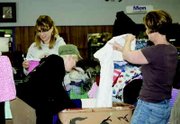 After 13 years downtown, Sunnyside Christian Thrift Shop is moving to a new Sunnyside location with more than four times as much floor space.
That's according to Linda Freepons, member of the thrift shop's transition committee.
Purchase of the former St. Vincent de Paul property at 305 North Avenue was finalized early this month and shop officials hope to renovate and be in the new location by June.
The Sunnyside Christian Foundation bought the property and will lease the building to the Sunnyside Christian Thrift Shop, said Dennis Kaptein, foundation director. Kaptein said the partnership makes sense because both non-profit organizations are working toward the same goal, financial support of Sunnyside Christian School and Christian education.
Thrift Shop board chairman Linda Benjert said the purchase is the culmination of at least a five-year search for a new, larger location. "There's been a lot of prayer, a lot of people working on trying to find a place for us," Bejert said, adding there is inadequate floor space at the current store, located at 530 S. Sixth Street. Benjert said the committee she serves on has only been in existence for a year, "But before that, we were looking."
Diane Plooster, Sunnyside Christian Thrift Shop manager, said volunteers have already begun work at the new store, sorting clothing and other merchandise left behind when the Yakima Catholic Diocese closed St. Vincent's doors in December.
The property includes three separate buildings, with the main structure at 9,000 square feet.
Kaptein describes the new location as having tremendous potential. He said, "We looked at a lot of buildings. We just had to be patient until the right building came along."
As part of the transitioning process, the thrift shop is having a special three-day bag sale at the North Avenue store April 16 through 18. Customers will pay $4 per bag of merchandise. Sale times are 8:30 a.m. to 4:30 p.m. April 16 and 17, and 10 a.m. to 3 p.m. April 18. Bag sale proceeds will go toward transitioning costs.
Benjert said of the new location, "We're going to do quite a bit of interior remodeling and we'll also have to paint outside."
Freepons added that it could cost up to $30,000 to address the store's paint, plumbing and electrical issues. Supporters are encouraged to drop off any cash donations for moving expenses at the downtown thrift shop.
Sunnyside Christian Thrift Shop opened in 1996, using a largely volunteer staff to sell new and used items donated by the community. It grew into a thriving business and community ministry.
Shop proceeds are donated twice a year to Sunnyside Christian School, which serves students in grades K-12 from throughout the Yakima Valley. Donations reduce tuition costs for school families, who, in turn, form the backbone of the store's volunteer workforce.
Sunnyside Christian Thrift Shop offers a low-cost alternative to shoppers ranging from low-income farm workers who need necessities to affluent antique collectors. Until the move is complete, regular business hours at the current Sixth Street location are 10 a.m. to 5 p.m. Mondays through Fridays and 10 a.m. to 3 p.m. on Saturdays.