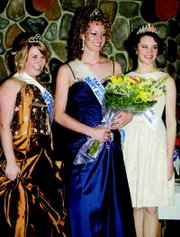 Plenty smiles, abundant laughter and even a few tears heralded in the Yakima Valley Dairy Ambassador last night, Tuesday, as Krystal Leyendekker passed her crown on to Kristyn Mensonides, a Sunnyside Christian High School junior.
Mensonides, the daughter of Art and Theresa Mensonides of Mabton and sister to Sabrina, Amy, Joreen and Hedy, was the only candidate in the running for the 2009-10 title, but she still had to go through all the steps as if she had competitors, according to Carol Van Slageren, Yakima Valley Dairy Women President. Van Slageren said Mensonides still had to go through the interview process, something the audience at last night's banquet didn't get to see. Mensonides also had to think quick on her feet, as she was asked an impromptu question.
Mensonides also had to give a speech, which had a "Get Back to Basics" theme.
Said Mensonides, "It doesn't take a rocket scientist to figure out our economy is a little bit complicated right now," she said, noting that not too long ago, going green meant riding a John Deere tractor, bailout was something you hollered out before feeding time and change was something that jiggled in your pocket.
"We need to get back to basics," she said. For her, this means an emphasis in teaching children that milk comes from cows, not stores.
Mensonides wants to push a simple philosophy: consuming dairy products means creating memories. "Remember the first time you had homemade vanilla ice cream? Dipping Oreos in milk?"
As Leyendekker gave her farewell speech, she had one pearl of wisdom for Mensonides that stood out above the rest.
"Live in the moment," she told Mensonides. "I was so excited for what was going to come next that I didn't live in the moment."
Leyendekker said what she enjoyed the most in the past year was spending time with the dairy women learning about the industry, etiquette, public speaking and, "of course, the kids. They're always fun, always a hoot."
What was the hardest for Leyendekker was being away from her mother so much who had just opened a salon in Grandview. "I'm used to going everywhere with my mom and it's hard to be away from her. I'm a mommy's girl."
Perhaps that's what led to a particularly strong attachment to the dairy women, who she told last night, "It's a great industry, a great family. That's what I'm going to call it, because you're my family. You're all my family."
Also last night, the Yakima Valley Dairy Women honored one of their own with the Friend of the Industry award.
Peggy Driesen received the honor for her continued support of the dairy industry after she retired from dairy farming. Driesen was lauded for past and present service to the industry at both local and state levels.
"We just appreciate how much she contributes to the industry," said Yakima Valley Dairy Women's Lavonne Boogerd.
Also present last night was Washington State Dairy Ambassador Eryn Edwards.
More like this story