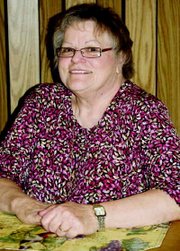 For 37 years, Pat Hull had her hands full. She taught at the old Chief Kamiakin school until it burned down, double shifted for a time at Washington Elementary School, returned to the newly built Chief Kamiakin, then began working at Outlook Elementary School. About four years ago, she hung up her teacher's hat and retired.
Hull enjoyed a few years of retirement, but then lost her husband about a year ago. Something inside of her compelled her to explore local clubs and service organizations. Instead of sitting around, she believed, "There has to be more than this."
Many seniors who've retired don't see their own importance, she believes.
"I think sometimes when people retire they seem to think they're not that important. Well, we are that important-we just have to find something to do."
Less than a year ago, she joined Nouvella Club.
"It's one of those groups you hear about when you're working and wonder what it's all about," said Hull.
Hull's friend, Betty Carlyle, suggested she attend.
"I've met so many nice ladies and I wouldn't have known about (the club). I was always working," she said of the group of women that meet monthly for luncheons and fellowship, as well as listening to a guest speaker.
It was actually a Nouvella Club guest speaker that piqued her interest in the Sunnyside Kiwanis Club.
Longtime Kiwanis Club member Jim Sleater came to speak to the ladies club about the history of jazz. It was then that she approached Sleater and asked if he knew of an organization that would be good for her, and that she would be good for as a contributing member.
"That's how I got into Kiwanis," said Hull, who's been a member now for about four months.
Like the Nouvella Club, Hull knew little about Kiwanis. "I didn't realize they're the ones that sponsor the children's parade," she said.
"It's been interesting just seeing their objectives," she said, noting that the Kiwanis Club works on many different projects, including sponsoring the Key Club at the high school.
Hull is already enjoying the projects and activities. One highlight was participating in a recent food drive. "That was fun," said Hull.
Another highlight, simply put, is the people. "It's the people in any group that keep you going.
"It it opportunity for service, yes, sure. But it's the people that keep you there, when people make you feel welcome, make you feel like you can be an asset to the group."