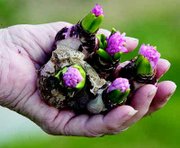 Venita Stubbs has lived in Sunnyside for all of 71 years and she's never seen anything like it.
"I just never dreamt that they would ever do that," she said.
What has Stubbs stumped is her hyacinth buds. Before she had an opportunity to put them into the ground, her buds started blooming flowers.
"I've never heard of that before," she said.
A quick google search revealed nothing, as well.
Stubbs said hyacinths need to be put into the ground sometime in the fall and then after the winter months are over the flower will poke out of the soil sometime in spring. Soon after, pink flowers will bloom to provide some spring time color.
Stubbs planted hyacinths along her driveway last fall and had forgotten about the box of buds in her shed. Earlier this week she went out to her shed for something and spotted the blooming buds.
"I thought...oh my," she said, "They are so pretty and pink."
The whole thing has got Stubbs pretty perplexed. No one she's talked to has ever heard of a bud blooming like this. The whole affair has left her wondering what to do with the pretty buds.
She doesn't know whether she should plant them or not.
"I've never experienced anything like this," she said.
"They're cute, though," she added.
Stubbs said she will probably plant them and see what happens.