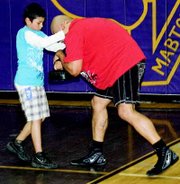 MABTON - When students in Mabton's 21st Century after-school program said they'd like to learn a life-skill, the site supervisor responded. For that reason, two times a week students are huffing, puffing and beating the dickens out of staff from First Response Consulting, LLC.
Fifteen students are learning the art of self defense from instructors Brent Martin and Johnnie Gusby and company owner Rob Layman. Students are learning basic skills in punching, elbowing, kneeing, kicking and to escape chokes and holds. Layman said the skills give the students time to fight off an attacker and retreat to safety.
Mabton 21st Century site supervisor Rick Maldonado said the students have expressed an interest in physical activity and life skills. And, he said, "Our boys and girls are very interested in self defense. They're motivated and enthusiastic about the skills they're learning."
The same group of after-school students participating in the program are also planning a hiking trip and learning about nutrition.
Layman said working with the Mabton students is the first time he's worked with that particular age group, but he thinks it's a great idea.
"Self defense is always important, especially for girls," Layman said, adding that Mabton's a small town and in the wintertime, students walking home after school or after evening school activities need to be able to defend themselves.
Layman said he has classes geared toward men and classes geared toward women. Mabton students are learning the classes that are geared toward women, which teaches the proper way to strike.
Layman said his company also teaches first aid and firearms courses.