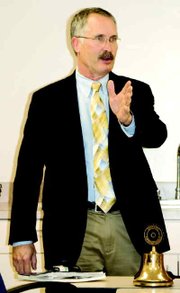 Newly elected Yakima County Commissioner Kevin Bouchey was the featured guest speaker at Wednesday's Sunnyside Daybreak Rotary meeting.
Bouchey was on hand to share with Rotarians what the past three and a half months have been like for him since he got elected.
Bouchey said that he and the two other commissioners each have business backgrounds and the three of them are trying to look at running the county with a business perspective.
Among main projects the county wants to tackle is water issues.
"We're looking at Yakima County to take a different lead position on Yakima River basin issues," he said, adding that while Black Rock efforts are much appreciated, it isn't likely that it's a project that will move forward.
He said county commissioners will meet with the governor's water policy making team in a couple of weeks.
"We don't want to see a void here," he said. "We believe there's still an opportunity to address water needs."
Bouchey said that one thing he feels strongly about is gangs and he meets regularly with the court administrator, prosecuting attorney and county sheriff to discuss the topic from the angles of intervention, prevention and suppression.