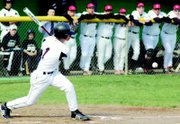 Despite scoring threats in the first and second innings, the 3A Sunnyside Grizzly baseball team was held scoreless in a 10-0 home loss to 1A Riverview yesterday.
The Panthers manufactured two runs in the top of the first inning with help from a pair of walks and a fielding error surrendered by Sunnyside.
The Grizzlies looked like they might answer in the bottom of the inning as with one out pitcher Travis Jones and first baseman Lane Pickel smacked back-to-back singles.
That gave Sunnyside (0-9) runners on first and third, but the rally went for naught as Jones was thrown out trying to score on a passed ball
With Riverview leading 3-0 heading into the bottom of the second frame, Sunnyside again threatened, as Tristan Abbott was hit by a pitch and moved to second on a walk. The Grizzlies came up empty handed again, though, as Abbott was thrown out on the base paths.
Sunnyside never threatened again and the Grizzlies' third and final hit of the game came in the fourth inning off the bat of Julian Rivera.
Riverview, meanwhile, kept chipping away at Sunnyside's pitching duo of Jones and Pickel with two runs each in the third and fourth innings to make it a 7-0 game heading into the fifth inning.
The fifth proved to the final frame as Riverview plated three runs, including a home run over the Sunnyside outfield fence.
The contest was a case of playing the opposition a bit closer, but still not enough to get on the scoreboard or to get a win.
"I think that we have to figure out to win ball games we have to do the little things right," said Coach Terry Shines. "We have to know our signals, bunt and hit-and-run when we're asked to." Missed signs accounted for both of the base runners thrown out during Sunnyside first and second inning rallies, Shines said.
With a date at 4A Pasco this Saturday, Shines said his young team needs "to have some competitive edge, we have to want to play and get after people."
As for getting on the scoreboard, Shines added, "We just basically have to swing the bat and be motivated to have fun out there."