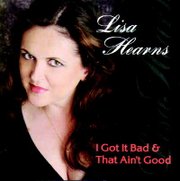 Melodic, sultry and inviting...that's how I would describe the voice of Lisa Hearns.
Her most recent release, "I Got It Bad & That Ain't Good," is a CD I would recommend for anyone looking to create a relaxing and romantic atmosphere.
Hearns provides music bound to tickle the senses. I can imagine myself sitting in an elegant dining establishment, soaking in the tub or enjoying a relaxing evening with my significant other while listening to the 10 tunes on this compilation.
Nothing about Hearns' voice is presumptuous...she delivers each tune with passion and a genteel approach, drawing her listeners in and tempting one to forget the stresses outside of their surroundings. She envelops the listener in a cocoon of comfort and warmth with her soft, supple voice.
She shines beyond the talented musicians providing her accompaniment, and in her rendition of "Cry Me a River" all preconceived notions of the song are lost.
"Wild Is Love," written for legendary singer Nat King Cole, is delivered effortlessly and all hint of its original pretense is gone.
"I Got It Bad & That Ain't Good" is Hearns' debut release and she delivers elegance to the jazz genre.
Six-time Grammy award winner Elliot Scheiner produced this musical masterpiece, which features jazz pianist Keith Ingham, guitarist Howard Alden, drummer Arnold Wise and upright bassist Kelly Friesen.
Of Hearns' work, Scheiner said, "She has a most identifiable voice and an artistic approach to performing unlike anyone I've ever worked with." He has spent 40 years in the music industry and worked with a number of memorable artists throughout his career. His compliment of Hearns is notable and I have to agree she is indeed a fabulous artist.
"I Got It Bad & That Ain't Good" can be found on Amazon.com, CDBaby and iTunes. Her recording sessions can be seen on YouTube and she has her own website at www.lisahearns.com.
My suggestion for anyone who enjoys a variety of music or is looking for something to help them melt away the day...BUY THIS CD!
"