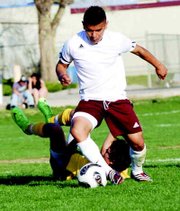 GRANDVIEW - Losing is never a good feeling but the Grandview High School soccer team can take solace in the fact that at least they didn't beat themselves last night.
"We were beaten by a better team," Grandview Coach Anne Holden declared. "Quincy out-hustled, out-played and out-pressured us. It wasn't the game we expected."
The Jackrabbits raced out to a 3-0 halftime lead and then cruised to a 4-0 win in the second half despite a resurging Grandview offense.
The loss is the second straight in league play for the defending CWAC champions and Holden expects every team from here on out to treat the Greyhounds like they have a huge bulls-eye on their backs.
Quincy used its speed in the first half to beat every Grandview player to every 50-50 ball, Holden said. The result was anything than pretty.
Daniel Guzman scored the first of his two goals in the 12th minute for the Jackrabbits. Luis Sorto followed that in the 18th minute of play as Quincy went up 2-0.
Guzman put his team up 3-0 in the 35th minute with his second goal of the match.
At halftime Holden reminded her team of its goals and although Grandview played much better, the 3-0 hole proved too deep to get out of.
Holden pointed out the play of Taylor Hoffard, who helped take control of the mid-field for the Greyhounds in the second half. Grandview players began creating plays instead of reacting to them.
In the first half Grandview managed to fire three shots at Quincy's goal, missing all three. In the second half, with the team moving and passing the ball, Grandview was able to attempt 10 shots on Quincy's goal. A mini-victory despite the fact none of them found their target.
The Jackrabbits were held to just three shot attempts in the second half, although Carlos Beltran found his mark in the 63rd minute to account for the final 4-0 score.
Quincy had a total of nine shots on goal to Grandview's 13. Rodolfo Barriga, playing keeper for Grandview, was able to save five goals for the Greyhounds. Quincy keeper Cody Beaumont recorded 13 saves.
Grandview (3-4, 4-6) will travel to Othello Saturday, April 18, for a 1 p.m. match with the Huskies.
"We'll give it everything we got," Holden promised.