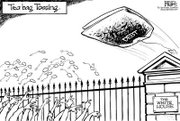 I was glued to my favorite TV news network this past Wednesday. I was watching as the drama of protesters played out on the television screen, agreeing with many slogans, such as "We are citizens, not subjects," and calls for a fair tax.
Protesters showed up at numerous U.S. cities to tell lawmakers taxing us to death is not acceptable and the people of this great country are tired of tax money being spent on "pork."
Lord knows there were plenty of earmarks in the tax stimulus bill, although our President denied it in one of his speeches the night prior to its passage.
That night, I found myself angry that he could possibly think the American people so gullible as to believe him.
Now, the American people are mad and want the "change" he promised.
Oh, he is initiating change alright. I have yet to hear from local law enforcement officials, but it has been reported that the Department of Homeland Security issued a report that targets those with conservative points of view. That report warned of "right-winged extremists" and their supposed danger to society.
"Right-wing extremists have capitalized on the election of the first African American president, and are focusing their efforts to recruit new members, mobilize existing supporters and broaden their scope and appeal through propaganda, but they have not yet turned to attack planning," the assessment reads.
This is absolute bull and the Department of Homeland Security knows it. What conservatives want is a country that works to the benefit of all. Conservatives, like myself, don't feel big companies should have special treatment over the little guy. Capitalism means a business can either succeed or fail. No bailouts. If it fails, the fallout may be ugly...but, we, as a nation, will survive.
Thus, the reason many flocked to the streets to protest Wednesday. Our hard-earned money is being put into the hands of those who have failed to be responsible in their business practices and the children of this nation will be paying for those failures for many years to come.