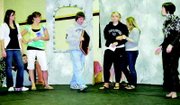 It's a parody on fairy tales, which seems to be a popular subject," explained Sunnyside Christian High School drama production director Candace Bosma.
She said this spring's performance, "Sleeping Beauty and the Beast," is a humorous blend of several popular fairy tales and the characters are colorful and witty.
Much like the movie "Shrek" spun a variety of fairy tales into a cute and whimsical tale of its own, so does "Sleeping Beauty and the Beast."
Princess Rose from Sleeping Beauty, portrayed by Kathleen Dolan, has been cursed by the Wicked Faerie (Anna Cleveland) at the princess' birthday party. Because of the curse, the princess is placed into a deep sleep, which could have been death had it not been for the Good Witch of the West, Jenni Crabtree. She provided the princess with a magical blessing and a Chia pet at the party.
Prince Charmless (Brent Tyhuis), whom Princess Rose loves, must save the kingdom and sets out on a quest. Along his journey, the prince encounters and befriends the Headless Horseman (Chris Newhouse) and Puss N' Boots (Abby Ingvalson). These two characters assist the prince along his quest.
The Beast, portrayed by Steven Broersma, has control over the castle. He was once known as Prince Frankie (Ryan Burton), but the Wicked Faerie's curse has reduced him to an evil creature. To win him over Prince Charmless and his friends must find Prince Frankie's true love before gaining access to the castle.
The original screenplay for "Sleeping Beauty and the Beast" was written by Wade Bradford, but the Sunnyside Christian High School cast and crew have added their own touch to this fantastical play intended to entertain audiences of every age.
Also cast in the production are Renee Dalrymple, Ethan Householder, Nathan Groenwold, Kaitlyn Broersma, Analisa Van Oostrum, Janelle De Groot, Dani Newhouse, Kinsey Plooster, Sarah Swinehart and Taryn Sytsma.
Three performances are scheduled. Performances will be held Wednesday, April 22, at 1 p.m. before the students of Sunnyside Christian Elementary School; Friday, April 24, at 7 p.m. and Saturday, April 25, at 7 p.m.
Thursday, April 23, those wishing to take photos can do so during dress rehearsals beginning at 6:30 p.m.
All performances will be in the Sunnyside Christian Elementary School gym and admission will be $3 for students and seniors, and $5 for adults. Children 5 and under will be admitted free.