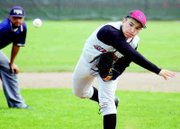 PASCO - The good news is the 3A Sunnyside Grizzly baseball team held 4A Pasco to just three earned runs on four hits in the first game of a league doubleheader at Pasco this past Saturday.
The bad news is that Sunnyside fielding errors led to seven unearned runs in the third inning as the Bulldogs won the opener 12-1, then won game two by a score of 10-0.
Sunnyside's Tristan Abbott and Buddha Palomarez shared pitching duties in game one and were generally effective at keeping the Bulldogs at bay.
"They were hitting their spots, forcing people to pop up," said Grizzly Coach Terry Shines.
During the crucial third inning, though, three errors led to the seven-run rally, Shines said.
At the plate, Grizzly batters showed some pop, but stranded five runners, including three in the first inning. Sunnyside broke through with a run in the fifth inning when Jacob Salcedo singled, moved to second base on a sacrifice bunt, and then scored on an RBI-single off the bat of Chance Graff.
It wasn't errors so much as pitching control that hurt the Grizzlies in game two, as Pasco plated five runs in the first frame. The Bulldogs coaxed three walks from Sunnyside pitching in the first inning. Two more walks issued in the second inning were part of a four-run Bulldog rally that put the game away.
"The walks jumped up and bit us in the second game," Shines said.
Lane Pickel and Travis Jones shared pitching duties in game two.
Jasper Rubalcava collected the only hit for Sunnyside in game two with a fourth-inning single. No Grizzlies reached second base in the nightcap.
"We need to do a lot of work in keeping our weight back," said Shines. "We're lunging at the ball instead of let it traveling to us."
Sunnyside (0-11) will look for its first win of the season this Friday when it hosts Wenatchee.