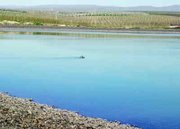 A water conservation project being tackled by the Sunnyside Valley Irrigation District got a boost last week when the Bureau of Reclamation awarded SVID $21.5 million in grant funds.
The Sunnyside Division Conservation Program has been a work in progress for 20 years and phase I of the project is expected to be complete by 2012.
Sunnyside Valley Irrigation District Manager Jim Trull said phase II of the project was expected to take about seven years to complete but with the recent grant money he said it would be compressed into just a couple of years.
"This is very good news," he said. "It is part of our on-going water conservation program and this means we can get it done much faster."
Phase I of the project consisted of SVID replacing 30 existing check drop structures with fully automated, electrically powered gates used to maintain a consistent water elevation in the canal for deliveries of irrigation water. A system control and data acquisition system was also installed. This allows communication between the central office and all automated control sites which coordinate the flow of water throughout the 60-mile Sunnyside canal. In addition, three re-regulation reservoirs were constructed.
There is a deadline to spend the $21.5 million awarded in President Obama's stimulus package. All funds must be used by Sept. 30, 2011, which means SVID will begin phase II at least one year earlier than planned. Phase II will consist of converting about 20 miles of open lateral systems with enclosed conduit systems.
"This will enable us to provide on-demand water service to landowners," Trull explained. "This will be a substantial water conservation and quality improvement and will also improve the level of service to the landowner."
Trull added there are some obstacles to clear before phase II can begin. An engineering firm will have to be selected to draw up plans for the project. Designs and specifications must be prepared. Bids must be accepted and a suitable construction firm selected. These obstacles must be met by the end of this irrigation season.
Trull said financing must also be addressed. Since the $21.5 million is only 82.5 percent of the grant, SVID must come up with an additional $3.7 million in matching funds.
"Despite all the challenges, this is a wonderful opportunity for our landowners and will be exciting times for those of us working for SVID during this major construction project," Trull added.