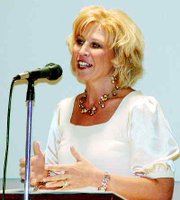 PROSSER - Susan Thayer of Oregon's Rogue Valley area talked during the Lower Valley Christian Women's Club luncheon yesterday, Monday, about the fresh start she received as a youngster.
Speaking during the club's theme of "Springtime Refreshment," Thayer described how she was the 10th child born to her parents, but only the third to survive infancy because of her parent's abuse of alcohol and drugs.
She described a childhood of rotating from her mother's house to her father's house. Life with her mom was difficult because of the abuse she suffered there. Life with her father was difficult because of his addiction to pornography that resulted in it being all over the home.
Finally, at the age of 11, she was given an opportunity to move from Texas to Pasco to live with a foster family.
She described how the family was crying when they first saw her at the airport. Thayer said she thought the family had changed its mind and didn't want her.
Turns out the family thought she was so cute and was so excited to have a girl in the family.
Thayer described how the family said they would have a balloon at the airport so she could identify them. "They didn't have just one balloon," she smiled. "They must have had 30!"
Thayer's foster family became her home and eventually her adoptive family.
Today, Thayer and her husband have four children - two of them adopted.
She used her experience with adoption to encourage those in attendance to let God adopt them, that those who believe are adopted into God's family as sons and daughters.
Thayer said God is waiting for them, longing to have a relationship with them.
And He's waiting with far more than balloons in hand, she added.
"He's waiting for you in heaven," she said.