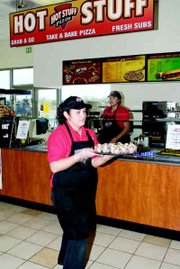 GRANGER - Approximately 50 people turned out to enjoy cinnamon rolls, sub sandwiches and pizza at the Granger Travel Plaza on Monday as owners Paul Sohi and A.J. Hothi officially opened Hot Stuff Foods inside the mini-mart.
Sohi and Hothi opened the Granger Travel Plaza last August. There is a Money Mart at the business, as well.
Laura Mejia, manager of Hot Stuff Foods in the travel plaza, said the restaurant opened earlier this month but Granger Mayor Ramona Fonseca just cut the ribbon officially opening the new eatery yesterday, Monday.
Hot Stuff Foods is a franchise partnering with the Granger Travel Plaza. The company supplies all the ingredients for its menu, which includes pizza made to order, sub sandwiches, wraps, and breakfast sandwiches and burritos.
"The food is good," Mejia said. "I've tried it."
Mejia said they wanted to expand the business to keep customers happy.
"We're a truck stop," she said. "A lot of the truckers want something besides just deli foods."
For now the restaurant is open from 6 a.m. to 8 p.m. but Mejia said there are plans soon to keep it open 24 hours, like the mini-mart is itself.
New seating has been added to the travel plaza to accommodate 20 people and Mejia said two new employees were hired to staff Hot Stuff Foods.
Mejia said the new venture started off a little slow but with the word getting out more people are trying the food.
"It's getting busier," she said.