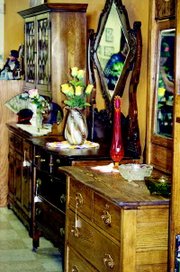 GRANDVIEW - Walking into Collector's Choice in Grandview is just like walking into grampa's shop with the rich smell of varnish and oils used to bring furniture back to life.
Gary Boyd and Pat Kern opened up the store in April, but the two men have a combined 40-plus year history in restoring antiques.
"I take something that's in someone's barn that they're thinking is just junk and I turn it into something beautiful that someone's going to cherish," explained Kern.
Boyd added, "We bring it in, it might be broken down and not looking good, and we fix it and bring it back to life."
The end product is beautifully restored antiques, many of which are oak. "It's a part of American history. This stuff has been around for generations and more to come because it's built so well."
Antiques line the walls of the shop, which is located on Second Street in downtown Grandview, many of which are turn of the century pieces. Items featured include sideboards, vanities, libraries, secretaries and there's even a gentlemen's dresser. The shop also features antique glass items, like leaded crystal, Fenton pieces, carnival glass and depression era glass.
A surplus of inventory was the impetus of the store's opening.
"He (Pat) was definitely running out of room at the store in Prosser," said Boyd. Added Kern, "I either had to quit or do this."
Kern has some antiques in Sharon Yost's Dairy Farm Antiques in Prosser. Kern's the first to admit that if he doesn't have what a customer is looking for at the new Grandview shop, he probably has it featured in Prosser.
Boyd and Kern use a small room in the back to restore furniture and Kern said that it's a refinishing shop too, which means they will refinish items for customers.
Collector's Choice is open Mondays through Thursdays from 8 a.m. to 5 p.m. and on Fridays and Saturdays from 8 a.m. to 6 p.m.