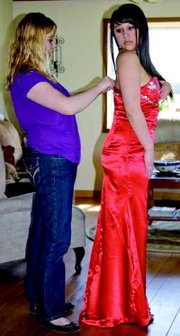 Crafting a career as a custom seamstress is the last thing Sunnyside's Lora Solis ever imagined herself doing, but this prom season Solis can be found either at her sewing machine or at the home of her clients, making last minute alterations before the big event later this month.
Many years ago, Solis even crafted her own prom dress. But she still never anticipated that it would eventually turn into a career. "It's not something I saw myself doing as a career," she said.
"I started sewing when I was expecting my first child, Damian," she said. "I was looking for the perfect nursery stuff and nothing caught my eye so I dove right in." She also admits she was "hyper nesting."
That was 10 years ago and since then, her imagination and her sewing machine has led to her clothing line, Beneath The Willow.
"Some people can draw. I can sew, it just comes easily for me," she says with a laugh.
That means often times sketching out her own designs on "any old scrap" of paper.
"When I draft my patterns, I just know where things go," she said.
The birth of her daughter Kayla in 2003 launched her girls clothing line and both children often serve as models. One popular girls favorite is a dress that Solis sells online. "I make probably 100 of those a year," she said.
Spreading the word online came easily with her website beneaththewillowdesigns.blogspot.com. Spreading the word locally just took a little bit of advertising. "This year I started running a small ad in the Daily Sun and I've met a lot of wonderful people.
"Four prom dresses and 10 alterations this season alone, I've been very busy," she said.
When it came to crafting a dress for Sunnyside High senior Melodie Casas, Solis simply looked at a picture of the "ideal gown," began working with an existing strapless pattern she had, and then used her instincts to get the job done.
Solis also stitched in a little surprise for the senior: she embroidered her name and the year on the inside. Solis said she often likes to stitch in surprises for her clients on her gowns. If they're bridal gowns, she sometimes stitches in the names of the bride and groom, and the year.
Solis enjoys working with brides as much as she does working on prom dresses, although she's not so fond of reticent, taciturn brides. "Shy brides make me nervous. I need specific directions, specific instructions."
Much of the work on a wedding gown is more cost effective with Solis at the helm. "A lot of brides think they can only go to big box bridal stores. They think that's all they're limited to, and that's absolutely not true. Their dream gown can be seriously, less than half the cost. Why put a lot of your budget on your gown?"
Solis, busy mom and wife to Ruben, enjoys the fact that she can work from home.
"I work. I use my hands, I'm creating something. Everybody wants to work at home, but a lot of people never have that dream come true," she said.
Lora Solis