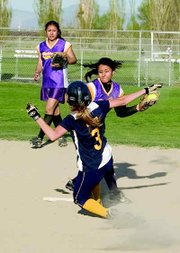 MABTON - Mabton's Sara Vasquez has many reasons to celebrate-she placed first in three track events against Ki-Be and Wahluke yesterday and was also named Athlete of the Week in the Seattle Times.
Vasquez led the way in the 3200m, clocking in at 13:15.29, more than a full minute ahead of second place finisher Kristen Kunkel of Ki-Be. In the 1600m, she clocked in at 5:54.50 for a first place finish ahead of Ki-Be's Kyndra Gregoire and her second place time of 7:04.94.
It was a close race in the 800m though, with Vasquez clocking in at 2:37.94, just ahead of Ki-Be's Emily Blizzard and her time of 2:38.25.
"Sara's times have been a little slow lately, but with improving weather conditions we look for (her) to peak just in time for the postseason and her third trip to State," said Mabton Coach Scott Sexton.
It was a great day for Lady Viking Trishi Williams, as well. Williams placed first in three of her events and second in one.
Williams threw the javelin 130-10 for a personal best and first place finish. Naylea Jimenez of Wahluke placed second with a throw of 91-7.
Williams placed first in the discus, throwing 107-5, a mere two feet more than Ki-Be's Mindy Orsborn. The Lady Vike also placed first in the shot put with a throw of 34-5. She placed second in the 100m hurdles, clocking in at 17.72.
Mabton sophomore Gus Martinez finished first in the boys javelin with a 148-4 throw. Ki-Be's Angel Mendoza placed second with a throw of 141-3.
Michael Conradt finished first for the Vikes in the high jump, leaping 5-8. He also placed second in the 110m hurdles.
Noe Gutierrez of Mabton placed second in the 100m and long jump. He clocked in at 12.21 behind Wahluke's Tony Madrigal, who finished in 11.62. He finished first in the triple jump with a distance of 31-5.