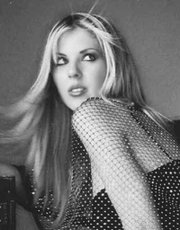 Kristine Eikenbary wasn't a problem student when she went through the Sunnyside school system in the 1980s and '90s, but her parents were frequently called to the school.
"All she wanted to do is draw," said her father, Bill Eikenbary. "We were called to the school on more than one occasion for that."
Today, Eikenbary is living on the upper east side of Manhatten, filling her days designing dresses for Bari Jay and Shimmer.
"I knew what I wanted to do when I was 10 years old," said Eikenbary, a 1992 SHS grad.
Eikenbary recalls getting her first dress form from her grandfather at an early age. "I'd drape a new gown on it each week."
In a 1992 article in the Daily Sun News, Eikenbary talked about her dream of attending the Art Institute in Seattle and pursuing a fashion career. "I just jump right in there and do what I must," she told the reporter.
Seventeen years later, she's head designer for Bary Jay and Shimmer and a world traveler.
Eikenbary lived in Italy and worked as a freelance designer for Gucci and Prada, working with leather and cashmere. Twice a year, she goes to China, where her gowns are produced. She also frequently travels to Paris and London to eye new trends.
Every travel serves as an inspiration. Eikenbary designs the beadwork on her gowns and inspiration might come from something as simple as handcrafted pottery. "The more travel I do, the better it is for me," she said.
Of her world travels, she said, "It does give you a very different perspective of the world."
A typical day consists of fabric appointments, shopping the markets on the streets of New York and eyeing design, fabric and garment trends. She designs roughly 300 gowns a year.
Eikenbary is currently featured in the May/June 2009 Bridal Guide and she dresses Miss USA.
So what's her pearl of wisdom for current SHS students eyeballing a big dream?
"If you have a dream, hold on to it. No matter where you come from, you can do it," she said. Of breaking out of a small town, she added, "I did it. And it's not an easy thing to do."