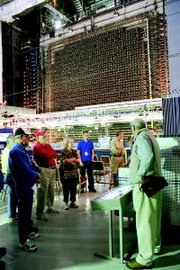 RICHLAND - "Do you feel like you won the lottery?" Michele Gerber asked a tour bus full of visitors to the Hanford site yesterday.
The answer was an overwhelming "yes" as Wednesday's tour represented just some of the 2,500 people who will get to visit the site this year. That represents only a little more than the 20,000 people who sought tour reservations in a nationwide internet sign-up last month.
Gerber, a senior communications specialist with Fluor Hanford, called Hanford the "largest construction project in human history to date."
Starting in 1942, it took 50,000 workers just 29 months to build Hanford's first nuclear reactor. The extreme ramp up in manpower and weaponry was the U.S. response to threats from a Nazi Germany that controlled the European continent, and Japan, which controlled two-thirds of the Pacific rim.
The first reactor workers built, the B Reactor, produced the plutonium for the first atomic bomb explosion, a test effort, and the bomb dropped on Nagasaki, Japan, in August 1945 that effectively ended World War II.
World War II may have ended, but work at Hanford was just getting started. At its peak, Hanford had nine nuclear reactors serviced by 150 buildings in a land area that covered 640 square miles.
"Every building here is in response to an action somewhere in the world," said Gerber. Nuclear reactors were built for the U.S. effort in the Cold War, such as in response to the Soviet Union Sputnik satellite and the Chinese intervention in Korea.
President John F. Kennedy even flew to Hanford in September 1963, just two months before his assassination, to dedicate the N Reactor.
The flurry of activity at Hanford began waning in the mid-1960s and the B Reactor was de-commissioned in 1968.
Gerber said Hanford was closed because the reactors required increasing repairs, to the point that it was deemed less expensive to build a new reactor than to maintain Hanford.
Hanford was built in less than three years, operated for about 25 years, but will take a century or more to clean up.
That's because of radioactive material at the Hanford site, and due to contamination in the ground water.
A vitrification plant is now under construction that when finished in 2019 will begin a decades-long process of converting drums filled with radioactive materials into a hard, glass-like substance that will keep contaminants from leaking into the groundwater.
Today, only 15 buildings are still standing at Hanford. Many are set to be de-contaminated and torn down.
One building that will remain is the B Reactor, which just last year was named a national historic landmark.
Preservation efforts are under way at B Reactor. Museum exhibits and guided tours are included for the limited number of people who "win the lottery" and get to visit the site.
Herb Konkle of Richland was among those who won the Hanford lottery. The 87-year-old was nearly in tears as he recalled his work at Hanford from 1948 to 1971.
Konkle came on board at Hanford after the B Reactor was built, but as a maintenance worker saw the construction of the C Reactor "from when it was a hole in the ground."
Konkle added, "The noise, all the workers, it was just an awesome experience for me."
He says it's amazing the reactors, especially the early ones, worked seamlessly without incident or explosion.
"You have to remember this was all done by hand, with slide rules not computers," Konkle said. "To me the whole thing is a miracle."