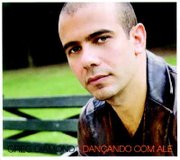 Listening to guitarist Greg Diamond's most recent release, "Dancando Com Ale," I quickly came to the realization that although he is masterful as a musician, his music doesn't appeal to me.
There aren't lyrics to this Latin jazz release, which isn't wholly bothersome. But, I could have used some lyrical interpretation to the message of the songs. The lone song to feature vocals is Ninghe, Ninghe.
In that one song, which is a lullaby, the vocals of guest vocalist Vanessa Diamond are operatic. The lyrics are in Spanish. One sentence, loosely translated, "Con ojos grandotes como dos ventanas que miran al mar," meaning eyes like two big windows that overlook the sea, is beautiful. Unless you are want to lull someone to sleep, this song is out of character with the rest of the jazzy sound from the CD.
The guitarist Diamond has a Santana sound and the accompanying contemporary jazz adds texture to the mix. There is a vibrant feel to the music. I can picture a couple dancing across the floor to many of the songs in this collection, exhibiting a sense of exhilaration and pizazz.
I am impressed by this compilation, but I just don't believe I would go out and buy this CD. But, jazz enthusiasts or those who enjoy the musical sounds of Latin tunes might really enjoy this.
I feel this CD caters to the discriminating listener...just not your everyday person turning the dial to their favorite radio station.
Featured with Diamond on this release of 10 songs are tenor saxophonist Seamus Blake, Brian Hogans on alto and soprano sax, pianist Emilio Solla, drummer Ferenc Nemeth, Edward Perez on bass, and Arturo Stable as percussionist.
Diamond himself is emerging in the New York jazz scene and has performed at Dizzy's Club Coca Cola, The Knitting Factor, 55 Bar and many others.
"Dancando Com Ale" can be purchased online at Amazon.com or via Diamond's website (www.gregdiamondmusic.com)
More like this story