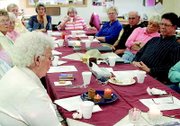 They tend to terminally ill patients from Selah to the Tri-Cities and points in between.
They are the 26 volunteers for Lower Valley Hospice and Palliative Care and last night, Thursday, they were thanked for their efforts at the agency's Sunnyside office.
The event, which included dinner, was in correlation with the national volunteer appreciation week now underway.
Some of the volunteers talked about prayer shawls they made and gave to the patients they served. The volunteers not only talked about the patients, but about family members comforted.
The event was also a chance to praise the volunteers for an increased outreach, as volunteer hours are up this quarter over last year by 40 percent.
"Our area of service is growing to all of Yakima and Benton counties," said Carol Bos, volunteer coordinator for Lower Valley Hospice.
After the event, Bos said the Lower Valley agency and its volunteers are developing a good reputation in the region because "...we work really hard at providing a full circle of care."
Bos said the agency also has a 24-hour call center that will dispatch nurses at any time of day or night. The call center and information about volunteering are available at 837-1676.
A highlight of last night's event came when the volunteers were invited to light a candle in memory of a deceased patient they had served.
The result was laughter and tears as each hospice volunteer recalled their special patient.
Ron Jetter is the director of Lower Valley Hospice and Palliative Care, and he put the evening in perspective by sharing with the volunteers.
"Hospice is like a dessert," he said in comparing life to a meal. "It's the way a good meal should end. Thank you for being the cherry on top.