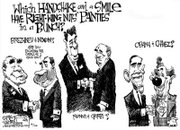 Microsoft's "Elevate America" program hits home here in the Yakima Valley with the distribution of free vouchers for technology training.
That's according to Sarah Augustine, a planner for the South Central Workforce Development Council.
According to Augustine, the initiative will provide up to a million vouchers nationwide for Microsoft eLearning courses and select Microsoft certification exams.
"The program is designed to provide technology training for up to two million people during the next three years," Augustine said.
Courses range from basic technology literacy to intermediate level technology skills.
In south central Washington, which includes Yakima County, 523 vouchers are available at no cost.
All that's needed to participate in learning is a computer and internet connection.
There are no criteria for receiving a voucher.
Vouchers can be obtained by visiting the South Central Workforce website at www.yakimacounty.us/e&t/.