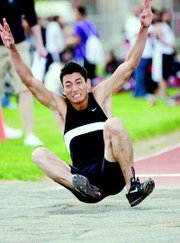 In their only home meet of the season, the Sunnyside High School boys and girls varsity track teams each earned a split yesterday.
The SHS boys squad edged the Kennewick Lions by a 73-71 score. The Davis Pirates boys team prevailed over Sunnyside, however, by a 99-45 count.
In girls team scoring, the Lady Grizzlies came out on top by an 80-66 score against Davis. Kennewick's girls claimed an 83-59 victory against Sunnyside.
Four of Sunnyside's athletes walked away from Thursday's double-dual meet with two victories apiece. The two-time winners included Ayla Schmick, Jocelyn Yanez, Katie Herndon and Kennedy Sarmiento.
Schmick and Yanez, both sophomores, were members of the winning 4x100 and 4x400 relay squads.
In the girls 4x100 relay competition, Schmick and Yanez teamed with sophomore Samantha Reyes and junior Tanya Lugo to post a winning time of 55.45 seconds. A Kennewick foursome crossed the finish line 1.06 seconds behind the Lady Grizzlies for runner-up honors.
Schmick and Yanez took on new partners in the girls 4x400 relay...senior Teresa Ramos and freshman Marisa Broersma. The four girls sped to a winning time of 4:40.69. A foursome from Kennewick was a distant second with a clocking of 5:23.24.
Herndon's two wins for the Lady Grizzlies came in the girls pole vault and triple jump. A junior, she turned in a first place pole vault leap of 8-6, a full foot higher than the runner-up effort of Edith Martinez of Davis. Herndon won the triple jump with a performance of 30 feet, 3 inches. Davis's Daria Winckler, the second place finisher in the eight-girl field, had an effort of 29-2.
Sarmiento continued his winning ways for Sunnyside in the two boys hurdles events. A junior, he blew away the competition in the shorter 110-meter high hurdles race, clocking in at 15.86 seconds. The closest runner to him was Ernesto Gonzalez of Davis, who finished in 17.25 seconds. In the 300-meter hurdles, Sarmiento again was the clear winner, covering the distance in 42.44 seconds. The Pirates' Gonzalez again earned runner-up honors, recording a time of 44.18 seconds.
GIRLS
100M
1st-Reina Malito (K) 13.78, 2nd-Kaitlyn Cardinal (K) 14.23, 3rd-Ayla Schmick (S) 14.32, 5th-Tanya Lugo (S) 14.41, 6th-Samantha Reyes (S) 15.24, 8th-Lilliana Trujillo (S) 15.87
200M
1st-Reina Malito (K) 28.91, 2nd-Sereena Silvas (D) 29.276, 5th-Tanya Lugo (S) 31.63, 6th-Lilliana Trujillo (S) 32.95, 8th-Susana Carrasco (S) 34.27
400M
1st-Angelique Whitstocken (K) 1:03.70, 2nd-Shauna Buckley (D) 1:06.85, 3rd-Teresa Ramos (S) 1:07.71
800M
1st-Shawna Schooley (D) 2:26.31, 2nd-Marisa Broersma (S) 2:30.41
1600M
1st-Shawna Scholley (D) 5:22.01, 2ND-Jocelyn Yanez (S) 5:57.72, 3rd-Marlene Manzo (S) 6:22.86
3200M
1st-Hannah Kaluzny (S) 12:37.96, 2nd-Courtney Herom-Cobb (K) 15:55.15, 3rd-Kristel Galvez (S) 16:26.73, 4th-Janet Barboza (S) 16:32.98
100M Hurdles
1st-Kaitlyn Quinn (K) 18.66, 2nd-Rosario Rodriguez (S) 21.12, 4th-Angelita Rodriguez (S) 21.73, 5th-Melina Gonzalez (S) 22.88
300M Hurdles
1st-Kaitlyn Quinn (K) 58.21, 2nd-Delia Martinez (D) 58.61, 3rd-Melina Gonzalez (S) 1:04.98
4x100 Relay
1st-Sunnyside 55.45, 2nd-Kennewick 56.51
4x200 Relay
1st-Davis 1:56.16, 2nd-Kennewick 1:57.94
4x400 Relay
1st-Sunnyside 4:40.69, 2nd-Kennewick 5:23.24
High Jump
1st-Daria Winckler (D) 4-10, 2nd-Kelsey Julian (K) 4-8, 3rd-Marisa Broersma (S) 4-6
Pole Vault
1st-Katie Herndon (S) 8-6, 2nd-Edith Martinez (D) 7-6
Long Jump
1st-Kaitlyn Quinn (K) 13-6.5, 2nd-Ayla Schmick (S) 13-4, 5th-Naomy Veelasco () 12-4, 7th-Melina Gonzalez (S) 12-0, 8th-Rosario Rodriguez (S) 11-10, 11th-Susana Carrasco (S) 10-8
Triple Jump
1st-Katie Herndon (S) 30-3, 2nd-Daria Winckler (D) 29-2, 5th-Naomy Velasco (S) 26-3, 8th-Susana Carrasco (S) 22-1
Shot Put
1st-Kaytlyn Coleman (K) 35-5, 2nd-Kelsey Julian (K) 33-4, 5th-Kendra Meeker (S) 28-8, 6th-Megan Tyler (S) 28-7.5, 7th-Amber Rodriguez (S) 27-7, 10th-Naomy Velasco (S) 24-8.5, 11th-Kendra Hollmeyer (S) 24-4
Discus
1st-Kelsey Julian (K) 96-1, 2nd-Kaytlyn Coleman (K) 92-3, 3rd-Megan Tyler (S) 90-5, 5th-Amber Rodriguez (S) 86-10, 6th-Kendra Meeker (S) 86-2, 7th-Molly Dolan (S) 77-8, 11th-Naomy Velasco (S) 60-10
Javelin
1st-Reina Malito (K) 116-9, 2nd-Angelique Whitstocken (K) 92-2, 3rd-Megan Tyler (S) 90-3, 5th-Teresa Ramos (S) 85-8, 6th-Molly Dolan (S) 83-3, 8th-Samantha Reyes (S) 78-10, 11th-Kendra Hollmeyer (S) 53-6
BOYS
100M
1st-Dimitri Mandapat (D) 11.60, 2nd-Damian Ramos (S) 11.64, 4th-Jose Madrigal (S) 11.76, 7th-Isreal Manzo (S) 12.10, 11th-Elias Medrano (S) 12.32
200M
1st-Dimitri Mandapat (D) 22.49, 2nd-Jose Madrigal (S) 23.14, 5th-Damian Ramos (S) 24.03, 7th-Kennedy Sarmiento (S) 24.41, 9th-Isreal Manzo (S) 24.51
400M
1st-Dimitri Mandapat (D) 51.73, 2nd-Jose Calderon (K) 52.63, 5th-Elias Medrano (S) 55.67, 6th-Caleb Gomez (S) 56.82, 7th-Emmanual Gomez (S) 57.02, 9th-Jose Sanchez (S) 1:02.60
800M
1st-Emmanuel Contreras (D) 2:05.85, 2nd-Gracen Gonzalez (S) 2:10.13, 4th-Sean Johnson (S) 2:15.71, 6th-Jacob Rogers (S) 2:21.68, 7th-Ruben Prado (S) 2:27.51
1600M
1st-Emmanuel Contreras (D) 4:44.46, 2nd-Alfredo Villasenor (D) 4:46.34, 5th-Jacob Rogers (S) 5:07.42, 6th-Nathan Gonzalez (S) 5:11.65, 9th-Freddie Roman (S) 6:07.02
3200M
1st-Alfredo Villasenor (D) 10:22.59, 2nd-Alberto Melchor (D) 10:26.92, 3rd-Jose Sanchez (S) 10:45.36, 5th-Eric Espindola (S) 11:44.06
110M Hurdles
1st-Kennedy Sarmiento (S) 15.86, 2nd-Ernesto Gonzalez (D) 17.25, 6th-Lorenzo Chavez (S) 19.26, 7th-Andrew Daley (S) 19.62
300M Hurdles
1st-Kennedy Sarmiento (S) 42.44, 2nd-Ernesto Gonzalez (D) 44.18, 5th-Lorenzo Chavez (S) 46.55, 6th-Andrew Daley (S) 49.20
4x100 Relay
1st-Davis 44.80, 2nd-Sunnyside 45.03
4x400 Relay
1st-Davis 3:34.96, 2nd-Kennewick 3:37.86, 3rd-Sunnyside 3:42.00
High Jump
1st-Eddie Garfias (D) 5-10, 2nd-Jason Hanson (K) 5-8, 3rd-Francisco Navarro-Rodriguez 5-4
Pole Vault
1st-Robert Jessop (K) 13-0, 2nd-Marcus Schooley (D) 12-6, 4th-Sean Johnson (S) 9-0, 5th-Jesse Hernandez (S) 9-0
Long Jump
1st-Anthony Corbray (D) 20-8, 2nd-Isreal Manzo (S) 19-2.5, 6th-Francisco Navarro-Rodriguez (S) 18-1.5, 7th-Emmanual Gomez (S) 17-6, 9th-Jose Sanchez (S) 17-1.5, 11th-Guadalupe Mendoza (S) 16-6
Triple Jump
1st-Robert Jessop (K) 42-1, 2nd-Edwin Rainey (D) 39-7, 3rd-Francisco Navarro-Rodriguez (S) 39-6, 4th-Emmanual Gomez (S) 37-10, 6th-Guadalupe Mendoza (S) 36-2
Shot Put
1st-Travis Sharp (K) 44-6.5, 2nd-Andrew Cortes (S) 43-11, 5th-Brian Bennett (S) 36-6, 6th-Danny Almeida (S) 36-4, 7th-Carlos Chavez (S) 35-5, 9th-Alan Lorea (S) 32-0
Discus
1st-Travis Sharp (K) 143-11, 2nd-James Carter (D) 115-2, 3rd-Andres Cantu (S) 112-3, 5th-Brian Bennett (S) 100-8, 6th-Danny Almeida (S) 100-0, 7th-Jorge Arciga (S) 99-2, 9th-Carlos Chavez (S) 89-1
Javelin
1st-Travis Sharp (K) 146-4, 2nd-Ernesto Gonzalez (D) 140-5, 4th-Andrew Cortes (S) 129-7, 5th-Mario Saldana (S) 122-5, 6th-Andres Cantu (S) 121-4, 8th-Eric Rodriguez (S) 112-5, 12th-Alan Lorea (S) 100-4