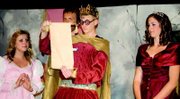 Sunnyside Christian High School's production of "Sleeping Beauty and the Beast" is an absolute must see for community members of all ages, but especially wee ones in particular.
Peals and squeals of laughter and delight echoed throughout the Sunnyside Christian Elementary School gym this past Wednesday when the high school students had their debut performance of the parody on fairy tales.
At the center of the story is Prince Charmless, skillfully played by Brent Tyhuis.
When Tyhuis's Charmless is introduced in the first part of the play, he is the least sympathetic character. Vain, a braggart, Charmless possesses little charm.
Somehow, throughout the course of the play, Tyhuis gets you to believe in Charmless the sweetheart, Charmless the hero. The audience can't help but wait with baited breath to see if Tyhuis's Charmless will follow through on providing the happily ever after.
My favorite actor of the production is Abby Ingvalson, the play's Puss 'N Boots. Ingvalson possesses a stage presence rare in high school productions-she's completely at ease and one to watch in future productions. Her character is so believable, sassy and enthusiastic, it makes me wonder what she's like in real life.
Because it's a spoof on fairy tales, it features many different characters. We not only have Sleeping Beauty (played by blonde-haired Kathleen Dolan, a master at battin' her hazel greens), but we've got Dani Newhouse's Cinderella and Renee Dalrymple's Snow White. Newhouse's comedic timing is something to watch as poor Cinderella spends the whole production looking for her other glass slipper, and when Snow White finally finds love, you forgive her for her attitude toward the seven dwarves.
Take notice of the Wicked Faerie, too, played by Anna Cleveland. Cleveland was a perfect choice for the part and when you watch the play, you'll understand why.
One surprise and delight during the play is the presentation of Snow's Fairy Godfather, played by Ethan Householder. He's not on stage much, but I guarantee you his part of the play, if nothing else, will have you on the floor laughing.
There isn't a single actor in this Sunnyside Christian High School production that doesn't belong on the stage. Kudos to Candace Bosma for her casting and direction.
Throughout the play, there are jokes and references for people of all ages. Adults are going to love this production just as much as the wee-ones, and I'm willing to bet teens will bust a gut, too.
This is a don't miss, must see event and you've got two opportunities: performances are slated for tonight, Friday, and tomorrow night, at 7 p.m. in the Sunnyside Christian Elementary School gym.
Tickets cost $5 for adults and $3 for students and seniors. It's free for kids age five and under-an absolute steal because it's ideal for that age group!