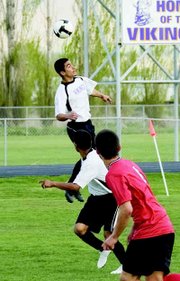 MABTON - "We came out really strong and scored three goals in the first half to their one," said Mabton Vikings soccer coach Andy Dyer.
He said the Granger Spartans provided the Vikings with a tough competition yesterday, and Mabton faltered 5-4 in double overtime.
Mabton's Tony Espinoza shot and scored the first goal four minutes into the first half. The Spartans answered with a goal of their own four minutes later.
Undaunted, Viking Juan Aguilar got in a shot and scored at the 16-minute mark. Teammate Luis Aviles scored on the visiting Spartans four minutes later.
Granger scored its second goal to draw within 3-2 in favor at halftime.
In the second half Granger shot and scored two minutes in, but Ebony Delgado of the Vikings was able to secure a goal six minutes later.
Both teams continued to fight for their goals in the second half of the match, but the Vikings fell short of finishing the way they had intended.
Granger scored again at the 14 and 28-minute marks.
The two teams went into overtime tied 4-4 and neither was able to score. That brought them head to head in a second overtime and Granger was able to secure the win with one more goal scored three minutes into the second overtime.
Mabton's JV team won 4-2 against the Granger JV. Goals were scored by Mabton's Guillermo Macedo, Luis Rivera and Christian Ramirez, the leading scorer with two points.
The Vikings (5-7) will face off for its second match-up of the season against the Timberwolves in Goldendale tomorrow (Saturday) at 1 p.m.