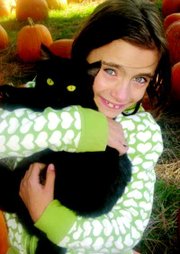 At long last, Sunnyside's Laynee Schneider's wish has come true, as she's currently recovering at Children's Hospital in Seattle following a kidney transplant.
The donor? Her mother, Emily Golloday, also of Sunnyside.
"We're here, it's done," reported Golloday from her hospital bed at the University of Washington late last week.
Schneider was diagnosed with end stage renal failure in December 2007 and the search was on last year to find a donor. Ultimately, it was her mother who gave the gift of life to her daughter.
"The kidney started working right away," Golloday said. "She had a bit of a problem with the epidural, it didn't deaden all the nerves that needed deadened."
She added, "My mom said she's got better color, she's just feeling better all the way around."
When asked about the risks, Golloday said, "When you do any surgery like this, it's always dangerous."
Mother and daughter were separated in two different hospitals for the procedure. "I'd love to be over there right now, but I don't think it'd be beneficial for us because I'd push myself too hard," said Golloday.
Golloday was expected to be released from the hospital this past Friday.
Schneider's expected to be hospitalized for a bit longer than her mother.
In the meantime, the family's grateful for all the support they've received.
"On behalf of my whole family, I'd just like to thank everyone for their support through all of this," Golloday said.