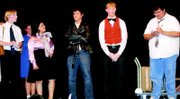 GRANDVIEW - If you haven't already seen it, the Grandview High School drama program's production of "Bye Bye Birdie" is something you won't want to miss. If you did happen to see it this past weekend, I think it is worth watching again.
This time-tested musical is filled with humor as it explores relationships within families and love interests, as well as providing a look into the fascination teens possess when it comes to their idols.
Because the musical is set in the 1950s, early 60s, there are some scenes that involve smoking and drinking, but the relational message is not lost. Many times when watching the entertainment headlines, today's teen idols have been caught participating in behavior parents do not want youngsters to mirror.
Ultimately, the message has more to do with learning to be the people we were meant to be. The main characters, Rosie Alvarez portrayed by Rosario Ayala, and Jake Wagner's Albert Peterson, an entertainment agent, muddle through a series of events revolving around Conrad Birdie (Nick Valle), who is a national teen sensation and enlisted in the Army.
Alvarez and Peterson must also deal with Mae Peterson, played by Maria Orozco, who seems to have an iron grip on her son. They embark to Sweet Apple, Ohio, home of Kim MacAfee (Amanda McLean) on a publicity campaign for Birdie.
While there, the couple rides a bumpy road in their complex relationship. Harry (Alejandro Arteaga), Doris (Josie Harrington), Kim and Randolph MacAfee (Brendon Lynch) house Alvarez, Peterson, Birdie and eventually "Mama" Peterson. They tolerate Birdie's antics, but Mr. MacAfee can barely stand his family's involvement in the publicity campaign.
He is moody and feels his home is being overrun. His daughter's behavior is less than respectful, putting her relationship with Hugo Peabody (Chavez Espinoza) on the line, and Randolph is patronizing when Mr. MacAfee's outbursts are over the top. For instance, there is a scene in which the patriarch asks for something to shoot with and the younger MacAfee offers him a pea-shooter.
The MacAfees, however, get a chance to be on the Ed Sullivan show so that Birdie can give Kim a farewell kiss and release his latest song, "One Last Kiss," before going off to be in the military. The family, starry-eyed, overlooks the annoyance Birdie, Alvarez and the Petersons have brought.
This cast has in place great timing and charisma. They are sure to tickle your funny bone in this comedic musical.
I think anyone who takes the time to see this musical will be glad they did.
The musical will be presented two more nights, Friday, May 1, and Saturday, May 2, at 7 p.m. Performances are staged at Grandview Middle School at the cost of $3 for students and seniors, and $6 per adult.