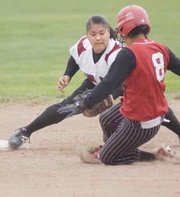 In a battle of Lower Valley rivals, the Grandview Lady Greyhound fastpitch softball team relied on the long ball to escape with an 8-5 win at Sunnyside yesterday.
The host Lady Grizzlies had the upper hand early Monday night, grabbing a 1-0 lead in the bottom of the first inning on a lead-off home run by Sarasa Partida.
Grandview didn't answer until the third inning when it punched across two runs.
Sunnyside scored single runs in the third and fourth innings to grab a 3-2 lead. The third frame run came home when Ruby Herrera delivered a clutch sacrifice fly to score a run. In the fourth, Melissa Amaro doubled for Sunnyside, then came around to score on a fielder's choice.
Through the first four innings, Sunnyside's pitching duo of Maleesha Maltos and Alexis Salcedo had held Grandview to just two runs.
Through those first four innings, Grandview pitcher Christina Mendoza had given up a total of three hits and three runs to the host team.
That all changed in the fifth inning when the Lady 'Hounds powered to the lead for good on a grand slam off the bat of Monica Walls.
"It was the longest home run I have ever seen," commented Grandview Coach Doug Hansen.
It was set up by a walk, fielding error and base hit surrendered by Sunnyside.
The Lady Grizzlies answered with two runs in the bottom of the fifth when Amaro and Savana Martinez delivered run-scoring hits.
Grandview put the game away in the top of the sixth, though, by again employing the long ball. Freshman Ashley Van Tress did the damage with a two-run homer to make it an 8-5 game.
She pitched the final three innings, giving up two hits to the Lady Grizzlies and two runs in the final inning.
Prior to this game, Sunnyside had given up just one home run all season. So to surrender two in one game came as a shock to the Lady Grizzlies.
"We didn't think Grandview could go deep," said Sunnyside Coach Ralph Mendoza. "They came through, they yanked the ball and it just carried in the wind."
One positive in the loss to Grandview is that Sunnyside showed it's finding a rhythm on defense.
"We're playing some good defense now," he said. Mendoza singled out third baseman Stephanie Sanchez for praise.
Sanchez recorded six put outs for the game and stopped a Lady Greyhound bases loaded threat by snaring a hard grounder and initiating a double play.
Hansen on the other hand, said his team's success on the field is credited to an overall team effort.
Grandview's Van Tress was 1-for-3 at bat, with three runs and two RBIs, as well as her home run.
Walls went 2-for-4 batting, had three RBIs and a grand slam.
Teammate Vanessa Medina was 3-for-4 at bat and scored two runs, and Lady 'Hound Chelsie McNabb scored a run, as did Yessenia Bravo. McNabb had an RBI and was 1-for-3 at home plate. Bravo went 1-for-3 at bat, as well. Grandview's Jessica Hall rounded out the hitters and was 1-for-2 batting.
Sunnyside (0-6, 0-13) travels to Southridge today for a league doubleheader. Grandview (4-8, 5-9) will host Wapato this coming Saturday in a twin bill.