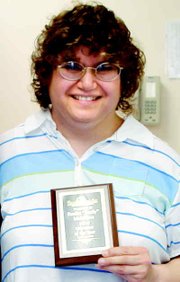 Sunnyside Community Hospital has selected Emily McMillan as its 2009 Volunteer of the Year.
McMillan volunteers her time in the admitting department at the hospital. She greets patients and visitors as they enter; providing directions and often walking people to where they need to go.
McMillan, who lives in Sunnyside, started her volunteer work last fall and quickly decided it was a great way to help out in the community and stay involved.
"She would volunteer seven days a week if her family would let her," said Volunteer Services Director Carol Allen. "(She) works four, four-hour shifts a week, and always has a smile on her face."
Department manager Edward Smolak said, "She always says yes when she is asked to do something. She greets everyone in the lobby and extends best wishes for a wonderful day to every individual who leaves the hospital."
McMillan said she would volunteer every day if she could. She credits another longtime volunteer, Betty Brown, for training her in how to do her volunteer job.
"Volunteers are an important part of the team at the hospital," said CEO Jon Smiley. "We feel very fortunate to have so many community minded people such as Emily who give willingly of their time."