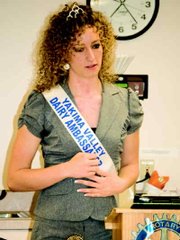 Milk comes from cows, not the STORE!
That's newly crowned Yakima Valley Dairy Ambassador Kristen Mensonides' mantra and she shared that with Sunnyside Daybreak Rotarians this morning, Wednesday.
Mensonides told Rotarians that a majority of the population doesn't have enough intake of milk products. As the ambassador, she'd like to at least give Lower Valley residents a boost in their intake.
Especially children. Mensonides said that for a valley with 70,000 cows in, there's a certain kind of disconnect. "Our valley is filled with cows, but we've lost the personal connection. Many children have never touched a baby calf."
Mensonides said of dairies, "Not only do our dairies bring us good health, but they bring us good memories."
For Mensonides, the memories are of sitting around the family table, talking for hours over steaming hot cocoa.
Rotarian Ted Durfey noted that dairies make significant contributions to the local economy.
During the question and answer period, Mensonides was asked about the outlook for milk prices. She responded that feed prices are radically disproportionate to milk prices-feed prices are "sky high," she said.