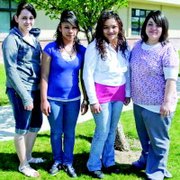 Three eighth graders at Harrison Middle School in Sunnyside are hoping to bring diabetes awareness to their classmates and others by hosting a car wash next month.
It was Jasmine Mejia who first thought of the idea and soon enlisted her friends, America Parra and Epi Garcia to help. Mejia didn't know she was going to focus on diabetes but knew she wanted to do something good for the community and wanted to raise money at the same time.
That's when HMS nurse Melly Thompson got involved.
"They weren't exactly sure what they wanted to learn and bring awareness to the community about," she said. "They all have family members with diabetes so then decided to learn about that."
"We wanted to do something for spring," Parra said.
Because several classmates also have diabetes the girls thought about holding a dance to help bring awareness about. That became a little too difficult so they decided on something else, a car wash, Meija said.
They went to Thompson to solicit her help.
"She knows a lot about diabetes," Garcia added.
Thompson helped the three girls prepare and they started getting posters ready. These posters inform people about the different types of diabetes and also about the car wash the group is planning.
They also did a survey to see what kind of knowledge the students already have about diabetes. The survey was five questions and through it Mejia, Parra and Garcia learned that a lot of students skip both breakfast and lunch.
Skipping meals affects glucose levels and students sometimes compensate by eating more sweets. This in turn, according to the group, can make students more susceptible to type II diabetes. This can come on from not eating right and not getting enough exercise.
It's little bits of information like this the students are trying to make people more aware of.
To help do this and to help raise money for the American Diabetes Association, the three have coordinated a car wash for Saturday, May 16, from 10 a.m. to 4 p.m. at Pizza Hut in Sunnyside. The girls are asking for a donation of at least $5.
Besides Mejia, Garcia and Parra, several HMS students and some staff members will also be on hand to help with the car wash. There will be free educational material in both English and Spanish available, as well.
This has been a spring board for other events dealing with diabetes, Thompson said. A diabetes school walk is being planned in the future.
"They have started something huge here," Thompson said of the students. "We want to keep it going."
For more information about the car wash Thompson can be contacted at 836-4167.