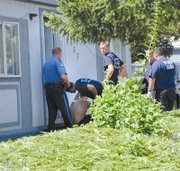 A 25-year-old man was shot in the back while visiting a friend in Sunnyside this past Friday.
Edgar Perez-Ruelas was apparently shot by 35-year-old J. Jesus Zapien Avina, at a home in the 1600 block of McBride Street.
Police say Perez-Ruelas was visiting a friend, who is a roommate of Avina. When Perez-Ruelas knocked on the door police say Avina fired three shots from a .45 caliber weapon, grazing Perez-Ruelas in the back.
The victim then fled to his home in the 100 block of Parkland Drive, where he was treated for his injury.
The suspect fled his residence in a maroon 1990 Mercury Cougar, Washington license plate number 694ZAN. Police consider Avina to be armed and dangerous. This incident is not believed to be gang related and police are asking the public to call 509-836-6200 with any information to the whereabouts of Avina.