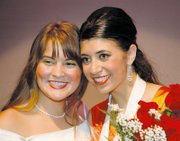 PULLMAN - Twenty-two young ladies traveled to Pullman last week to compete in the Washington Junior Miss Program. Among them was Grandview Junior Miss Marlee Andrews.
She said the opportunity was memorable in that she gained new friends through the experience.
"At first I was shy meeting the other Junior Miss candidates, but they were all encouraging and we quickly became friends," Andrews stated.
Mattie Bergeson of Moses Lake was selected this past Saturday for title of Washington Junior Miss and Andrews couldn't be happier for the young lady.
"She's very talented...her whole family dances and she's the type of person who makes others feel uplifted when they are around her," said Andrews.
She said Bergeson received high scores and won the fitness, talent and poise segments of the competition. Bergeson also was the winner of the spirited award, which was voted on by the contestants.
"I didn't win anything, but I feel like a winner for all I learned and accomplished during the week...I learned I am capable of more than I believed," said Andrews.
She isn't a dancer, but she credits choreographer Shirley Sears for making those without dancing skills appear as though they have been dancing "all their lives."
The fitness, poise and opening routines, performed as a group, were all choreographed by Sears.
Andrews said, "I had the opportunity to do a lot of unfamiliar things through the choreography...I had never done a toe touch."
For the talent segment Andrews performed the song SOS by Apocolyptica, which is the same vocal performance she provided at the Grandview Junior Miss Program this past April.
"There were a variety of talents...everyone was very talented and we couldn't decide among ourselves who would win that portion of the program," she said, stating contestants performed Irish clog dancing, songs, instrumental performances and a drama performance.
"It was a well-rounded group," Andrews shared.
"I feel even though it was a week, I grew by leaps and bounds," she summarized.
Andrews will continue serving as Grandview Junior Miss for the 2009-10 season and said she feels it is an honor to represent her community.