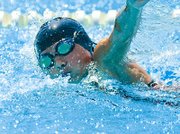 GRANDVIEW - Because of the city of Grandview's diligence and the hard work of its council, funding for much of the downtown revitalization project has been granted.
That's according to Jeff Louman of Huibregtse, Louman Associates, Inc.
He told the council members yesterday (Monday), "Because the city was already underway with its environmental and design pieces (for the downtown project), American Recovery and Reinvestment Act dollars have been obtained."
More than $2 million in federal stimulus funding was confirmed to have been awarded the city for the project yesterday.
"The city was successful with the state's capital (budget), SEED and tier two ARRA (American Recovery and Reinvestment Act)," Louman said.
Grandview has secured another $500,000 from the Washington state capital budget, $550,000 from the HUD Community Development Block Grant program and $500,000 from the Yakima County economic development fund program.
All funding will make improvements to the city's interior possible.
To secure funding, City Council members have visited legislators throughout the past year and helped place the project on a priority list.
Louman said the council also broke the project into different phases to further assist in the securing of funds.
He told council there is another funding opportunity looming. That funding is through the Washington State Public Works Board.
Louman explained approximately $9.5 million in grant money is available through the board for rural projects.
He advised the City Council members to apply for funding to improve Second Street from Grandridge Road to Avenue A and the section of Wine Country Road from Grandridge to Avenue A.
Louman also told the council about another funding source, the U.S. Department of Transportation. The USDOT has been provided stimulus funding, known as the TIGER (Transportation Investment Generating Economic Recovery) Discretionary Grant.
The grant money, however, would be more difficult for the city to secure, according to Louman. He said the funds are intended for larger projects and it will be highly competitive.
"Maybe one project for each state will be awarded a grant," he stated, explaining the council would also need the support of Sen. Patty Murray.
Louman added Murray is likely to favor improvements to I-90, Snoqualmie Pass over the city of Grandview when the decision to award the grant money is made.
"The question is whether or not council wants to spend money to receive further funding," he said.
Grandview City Administrator Scott Staples said he feels that funding is a long shot and the council might do more for securing future funding through earmarks.
He said once the first three stages of the downtown improvement project are underway, the City Council members will be in a better position to speak with lawmakers next spring in hopes that those lawmakers will be swayed.