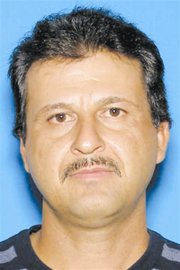 Sunnyside police are still looking for 35-year-old J. Jesus Zapien Avina of Sunnyside in connection with a shooting that occurred in the 1600 block of McBride Street last Friday.
Police say Avina fired three shots at 25-year-old Edgar Perez-Ruelas after the victim knocked on the door of the residence where Avina was staying. The suspect then fled the scene in a 1990 Mercury Cougar with Washington state license plate number of 694ZAN.
Perez-Ruelas was grazed by one of the three bullets fired at him. He ran to his house in the 100 block of Parkland Drive where he was treated by EMS personnel.
Sunnyside police detectives are currently investigating the case and are encouraging anyone with information on the whereabouts of Avina to contact the Sunnyside Police Department at 509-836-6200.