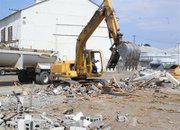 Demolition was completed this week in removing adjoining shop and storage buildings on the former Carnation plant in Sunnyside at South First Street and Lincoln Avenue.
Jim Warren is the general manager of Cream Winery, the fourth winery to call the former Carnation plant home. He said the buildings, which date back to the early 1940s, were torn down because "they weren't usable."
He said a leaky roof and lack of insulation made the buildings unsuitable for the winery's needs for an insulated storage area.
Further, with the buildings out of the way it opens up more area for truck traffic and potential parking in the future as the winery eventually plans to add a tasting room.
Additional metal storage buildings attached to the old Carnation plant will be torn down to make way for wine storage.
Warren said the brick exterior of the Carnation front office area will remain the same and that Cream Winery plans to retain as much of the old décor as possible inside.
Warren said Cream Winery wants to keep the Carnation tower and hopes to eventually move it towards the front of the winery as a landmark for visitors.
Cream Winery is in its third year of making wine at the former Carnation plant.
Warren said the demolition this week marks the beginning of a construction and renovation phase at the plant to preserve as much of the history as possible while at the same time outfitting the property so that it meets the long term needs for wine making and storage.