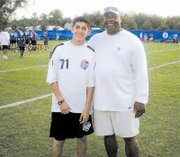 Sunnyside's Lorenzo Carbajal, an up and coming 14-year-old football star, parlayed a fine performance at a football camp in Seattle last May into an open invitation to an even bigger one in Florida last month.
Carbajal joined 82 other 14-year-olds at the invitation-only Football University Top Gun Camp, where he benefited from rubbing elbows with former football players and coaches. Not only did Carbajal receive instruction from these former NFL stars but he also got a chance to get some exposure to top college football scouts.
"It was exciting when I was invited," Carbajal said. "I was surprised I was picked. This is the first time I've attended Football University."
Carbajal attended the camp with his grandfather Max Saldana, head coach of the Sunnyside Grid Kid football organization.
Carbajal has played in the Sunnyside Grid Kid organization for five years, earning a MVP award and offensive and defensive player of the year awards. He plays wide receiver and defensive back. He was invited to the Top Gun camp as a defensive player.
In 2008 Carbajal helped the Sunnyside Grid Kid 'A' team to a championship run in the Yakima Valley League. The team was then invited to play for the Olympic Division title, which Sunnyside won.
This exposure got Carbajal and eight other Sunnyside players invited to a local Football University camp held in Seattle. He did well enough to get invited to the Florida camp.
Carbajal was told by camp officials in Florida that he was the #9 ranked cornerback/safety in the country among 14-year-olds. Quite an honor for the Sunnyside player.
Carbajal spent the four-day camp learning defensive skills. He said he was taught to recognize the different types of coverage college and pro players do. After learning and practicing the different coverages, he said the players would spend time going over the video of their performances, break down any mistakes and then learn from them.
Carbajal also got a lot of one-on-one time with different players, making friends from all over the United States.
Carbajal will join the Sunnyside High School freshman team this season and feels the camp experience will only make him a better player.
"I know how to read a play, now," he said.
His grandfather also learned a lot at the camp and said he plans to share his new knowledge with his Sunnyside Grid Kid teams.
As for Carbajal, he is waiting to see if he will be picked to play in the Junior All-Star game on Jan. 3, 2010, at the All American Bowl. A select number of players from the Top Gun camp will be selected.